AluStorage® services at our warehouse
The AluStorage® service involves warehousing your aluminium profiles at our warehouse in Luoma-aho or Voikkaa in Kuusankoski.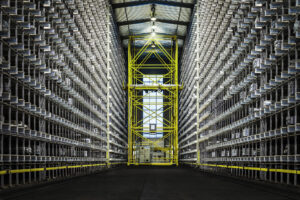 The stock is maintained and refilled automatically by our system, in accordance with the agreed service level. We will make sure that there are always enough goods for your company's needs. Automation makes it easy to maintain the agreed stock levels, so all you need to do is make an order and wait for the delivery.
This is how it works
In the AluStorage® service, we first define the appropriate stock levels according to the customer's needs. The AluVendor system automatically monitors stock levels and refills the stock in accordance with the agreed service level. When you need profiles for production, simply order the quantity you need from your stock. Your order will be delivered to you and the stock level will be automatically updated again.
Watch our animated video to see how simple it is.
Contact our sales department for more information or download our product info.