Citius, altius, fortius – grow your business with the AluServices® concept
11/03/2022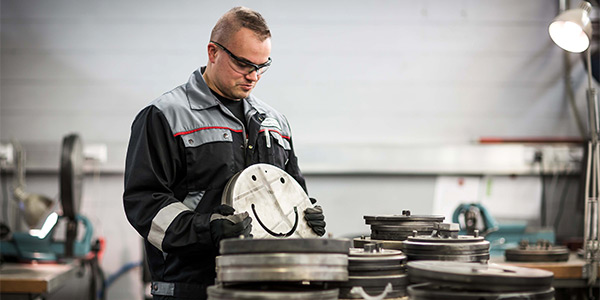 How does your company ensure that customer orders are quickly delivered to production? The traditional solution is to buy large quantities of raw materials for stock as cheaply as possible. However, this ties up capital, takes up space, and hinders the growth and development of the business.
These are things that Mäkelä Alu's customers do not have to worry about when purchasing aluminium profiles. 
"This type of operating model does not meet current needs, and it does not allow us to respond to individual orders, especially those that contain profiles in customised colours," says Mäkelä Alu's Export Manager Janne Lager. 
Cost-effectiveness over cheapness   
Mäkelä Alu's AluServices® concept is a customer-oriented solution that has been developed based on customer needs. We aim to ensure that our customers get the aluminium profiles they need as easily as possible and exactly when they need them. 
"Our goal is not always to sell the product at the lowest price, but to offer the most cost-effective solution for the customer. After all, the final price is not solely determined by the price of raw materials, but by the efficiency of the entire production process. That is where our customised service packages bring added value. The overall benefits should be assessed by looking at the process as a whole, not just focusing on the time of purchase," says Lager.
However, Lager emphasises that buying a single service, such as the warehouse outsourcing service, is not enough in itself. The company must have a clear overall picture of their operations. In addition, they must be able to identify production bottlenecks and be prepared to change the process as needed.
The optimisation of deliveries requires an understanding of the big picture   
The optimisation of order and delivery processes requires consideration of the customer's operating methods, material needs, and customer orders. It also requires the customer to look at the big picture and plan ahead, as well as to form and maintain a good relationship with the aluminium profile supplier that is based on mutual trust. 
"An increasing number of our customers are embracing the 'Mäkelä model', which is based on partnership, collaboration, and communication. This model has helped us grow both our customers' and our own business," says Lager.
No tied-up capital and a committed partnership   
Mäkelä Alu started developing its additional services two decades ago based on its customers' wishes and everyday challenges. Even back then, our goal was to offer solutions that facilitate our customers' everyday life, ensure reliable and flexible deliveries, provide ways to manage a wide range of profiles, and help our customers grow their business.
In our model, the customer does not have to tie up large amounts of capital in warehousing activities, but commitment to the partnership is key. It enables completely new ways of working.
Order and delivery processes can be standardised and optimised on a customer-specific basis and the delivery times of the profiles can be coordinated according to the customer's production schedule. In this way, Mäkelä Alu is able to reserve the necessary production and storage capacity for the customer's products, which ensures security of supply.
"Standardising deliveries ensures that the right profiles are always available when needed. This provides our customers with a significant competitive advantage, as the estimated delivery time for individual orders on the market is currently up to 15–19 weeks," says Lager.
Customised service packages     
Aluminium profile orders can be complemented by our additional services, such as surface treatment, warehousing, and automated inventory management services. You can also order the profiles in protective baskets that facilitate the handling, storage, and transport of the profiles. The warehousing and surface treatment solutions provided in connection with profile deliveries make it possible to maintain a buffer that meets your production's varying material needs throughout the processing chain.
Our e-services make ordering easy and efficient, and allow you to check the status of your orders in real time. If necessary, the ordering process can be fully automated by integrating Mäkelä Alu's ordering system into your company's systems.
Let us know what your needs are, and we will offer you a whole range of options as a turnkey delivery. 
Benefits of our services:   
One delivery, one invoice – quickly, efficiently, and reliably 
Quick deliveries also for profiles treated with special colours 
Recurring purchases enable money to circulate faster and ensure an even cashflow  
Low warehousing and inventory costs and opportunity to invest your capital in other business areas  
Waste is minimised 
Possibility to use your storage space for other purposes 
Flexible service 
Continuous monitoring and communication and the possibility to agree on stock level and order changes as necessary 
Simple claims process 
Read our customer stories