Our customers demand energy efficiency – we are constantly working towards it
06/06/2021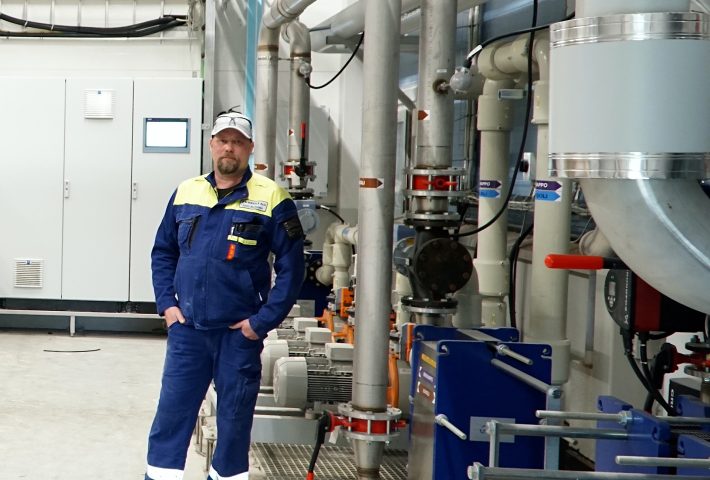 Sami Moilanen works at an anodizing plant and has participated in the plant's energy reform.
In February 2021, Mäkelä Alu joined the Technology Industry Energy Efficiency Agreement. According to Chairman of the Board, Petri Mäkelä, there were many reasons for joining the agreement.
"It contributes to a positive corporate image and makes our environmental efforts more visible," says Mäkelä.
Customers are increasingly interested in their partners' energy consumption, energy sources, and emissions, among other environmental issues.
"Environmental criteria are becoming one of the most important criteria in the selection of partners," says Mäkelä Alu's EHSQ Manager Päivi Venesoja.
The content of the energy efficiency agreement became clearer
According to Petri Mäkelä, the decision to join the energy efficiency agreement was also influenced by the fact that the implications of the agreement became clearer over time.
"We used to be a little unsure of what the agreement obliges us to do and what it requires from us. Now we know the answers. Awareness of the issues related to the agreement has also increased within our own organisation," says Mäkelä.
According to Mäkelä, the decision to join the energy efficiency agreement was further reinforced by the possibility to receive energy subsidies from the Ministry of Economic Affairs and Employment, which would lower the company's threshold for energy efficiency investments.
"However, potential subsidies are not the most important thing here. We would make these investments anyway."
Focus on waste heat recovery
Aluminium profiles are made by an extrusion process. A round bar is preheated to about 450 degrees, to get the desired shape and then extruded through a mould. After that, the profiles are cooled with water or air, and then heat-treated one more time. 
In addition to the aforementioned process, energy is also consumed at Mäkelä Alu's surface treatment plants, three powder-coating paint shops, and anodizing plant. In the powder-coating paint shops, profiles are first pretreated with 35–55 degree water, dried, powder coated, and heated in an oven at about 195 degrees to melt the powder on the profile surface.
At the anodizing plant, process tank temperatures vary from 18 degrees to just over 70 degrees. In the actual anode tank, an oxide layer is produced on the surface of the profiles by applying a current to the sulphuric acid bath. 
According to Development Director Tomi Pilbacka, energy consumption has been monitored at the production plant for a long time. A key method for improving energy efficiency is recovering waste heat at different stages of production.
"We have started off by identifying potential sources of waste heat. There is potential, and making the most of waste heat will be a major theme in the coming years."
Waste heat can be recovered either by using heat pumps or, in some cases, directly through heat exchangers, and utilised, for example, in the heating of surface treatment water.
The challenge is that the waste heat recovery and application sites are not always close to each other. Therefore, it may be necessary to build an internal heating network on the factory site so that the heat can be transferred to the necessary locations," says Pilbacka.
We aim to reach carbon neutrality in 2025 
Mäkelä Alu's major investments also include replacing the anodizing plant's steam centre with heat produced by heat pumps. In this way, the use of LPG can be eliminated.
"Our anodizing plant has a heat pump whose capacity has not been fully utilised. Now we plan to utilise that capacity by recovering heat energy from wastewater," says Tomi Pilbacka. 
Ventilation is also a major source of waste heat. Currently, a significant amount of hot exhaust air is blown out of the factory halls, which could be recovered with an appropriate heat recovery system.
Pilbacka emphasises that the purchase of new and less energy-intensive equipment is only a part of the company's energy efficiency improvement efforts.
"In addition, we strive to use existing equipment as efficiently as possible and, for example, avoid unnecessary down time. This allows us to save energy without financial investment."
According to Pilbacka, the main thing is for the whole work community to work towards these goals and for everybody to get involved in coming up with possible energy-saving solutions.
Mäkelä Alu has set a target to make its production carbon-neutral by 2025. Improving energy efficiency and replacing LPG with emission-free energy forms are the key here.
"We plan to replace our LPG appliances with electric ones when they reach the end of their life cycle."