Our extensive network allows us to provide a wide range of further processing services
09/06/2022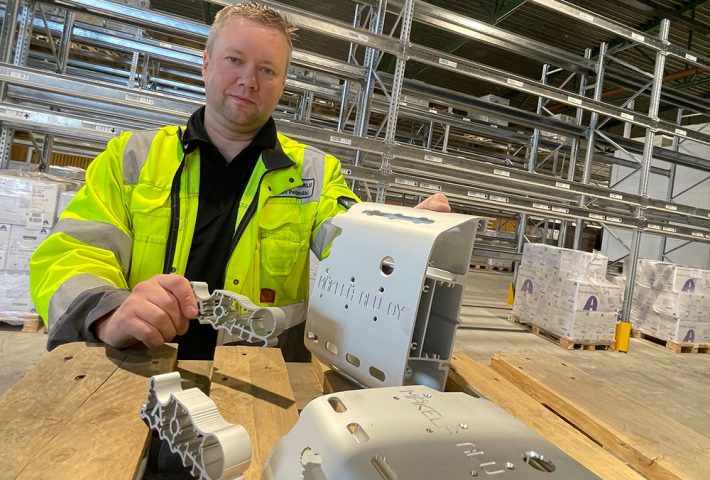 The aluminium profiles produced at Mäkelä Alu often go through various stages of processing to finished products. Our main goal is to make things as easy and efficient as possible for the customer. Our customers do not have to look for further processors for their products, as all the machining and surface treatments they need can be handled by Mäkelä Alu as a one-stop service.
"We can offer cost-effective aluminium profiles that are processed to the point that best suits the customer's needs," says Mäkelä Alu's Network Manager Jouni Peltomäki.
We always design a unique service package for our customers. It may include, for example, the storage of aluminium profiles, automated inventory management and replenishment, and the necessary machining.
"Our AluLink® warehousing and logistics service provides new opportunities for warehousing by enabling the storage of semi-finished or finished products in the AluLink® warehouse. The service will be further developed and expanded during the summer," says Peltomäki.
Turnkey deliveries under a single contract
Our further processing services are based on our network of contract partners, which consists of companies specialising in various fields. Most of our key partners operate in the vicinity of Mäkelä Alu. This enables short transport distances, and easy and efficient communication within the network.
"In principle, we focus on the production and surface treatment of aluminium profiles, and our network is responsible for other further processing. In this way, we are able to offer our customers a much wider range of services and special expertise than an individual company could," says Peltomäki.
With further processing services and other additional services, we are able to offer our customers a competitive advantage, and cost-effective and efficient solutions. That is what our entire network is aiming for. Without our network, the customer would have to look for at least two, maybe even four other partners to achieve the same result that we can offer with a single contract.
"If necessary, our further processing partner will participate in the discussion to agree on the technical details. However, Mäkelä Alu is always responsible for the whole, and serves as the customer's liaison throughout the process. Our sales team will provide a clear price for the entire service package. After that, Mäkelä Alu will order the further processing services from its partners and schedule the order," says Peltomäki.
A wide range of further processing options for orders of all sizes
Our aluminium further processing services cover all possible work steps: surface treatment, i.e. powder coating and anodizing, welding, sawing, punching, CNC machining and other machining, and assembly. Our network is able to process items of all sizes, from matchbox-sized items to long profiles of up to 15 metres. In terms of quantity, we can manage any order from a single item to large batches.
"The plans and drawings for the products to be processed are usually provided by the customer, but we can also help with the design, if necessary," says Peltomäki.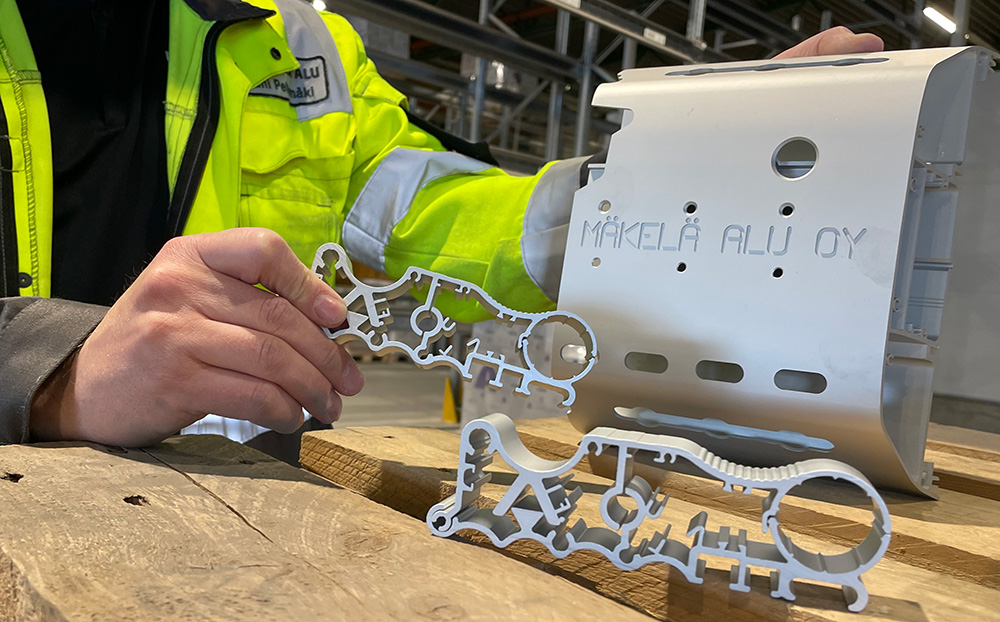 Our further processing network offers equipment that is state of the art on a European scale
Mäkelä Alu's partner network is also a significant entity on a Finnish scale. The network shares a long history and a common goal of providing customers with a superior service experience.
"The network has extensive know-how and a very modern stock of machinery at the European level, in which the companies invest every year. For example, there are many computer-controlled CNC machines. The partners also have equipment that is not available elsewhere, and their modern and multi-axis machining tools significantly reduce set-up times," says Peltomäki.
The expertise of our partners is also reflected in the fact that their services are also used by other extrusion plants.
The need for further processing services is increasing, as customers want their products as finished as possible. There are several dozen aluminium further processing positions in the companies operating in the vicinity of Mäkelä Alu alone. Aluminium processors in the area invest in continuous joint development through the unique LA Alucenter expertise network.
Products are processed in accordance with customer needs and to the extent required by the customer
What kind of machining services and end products do customers request?
"Our customer orders vary greatly. Customer profiles can be processed in many ways, depending on their shape. The purpose of the product is also important information, especially the more challenging the product and the more complex the machining process. However, we may not always know what the product is intended for," says Peltomäki.
Peltomäki mentions EV charging station poles as one of the "hot products of the day". The poles are processed in parts in Mäkelä Alu's network. All the customer needs to take care of is assembly and electrical work. The processing of cooling profiles has also increased.
"Together with our network, we have also been involved in larger projects. For example, we were involved in building the world's largest cruise ship, which was built a few years ago in France. In this project, we delivered large balcony units to the shipyard through our customer."
You can discuss your machining and other further processing needs with our sales team. Our Network Manager Jouni Peltomäki is often involved in the planning of larger service entities.
"The goal is always to find a solution that will achieve the best and most cost-effective result," says Peltomäki.
AluLink® – our warehousing service for semi-finished and finished products
Our customers are already familiar with our traditional AluStorage® warehousing service. In the service, we store the customer's aluminium profiles in our high-bay warehouse as agreed with the customer, so that there is always an agreed number of profiles in stock that are delivered to the customer exactly when they need them.
Following the same principle, our AluLink® service allows us to provide storage for further processed products. The storage capacity of the service has been somewhat limited, but both our Euro pallet storage and long-profile storage will be expanded during the summer. With the expansion, the service will be suitable for products of all sizes, and we will be able to offer the service to a wider range of customers.
"Thus, in addition to profiles, we can also store semi-finished or even finished pieces on behalf of our customer, and deliver them either to the customer, or directly to the end-customer, quickly and flexibly exactly when needed and in the quantities required. This frees up the customer's storage space and helps them optimise their material flows," says Peltomäki.