Terrassenwandel GmbH appreciates the AluStorage® service
27/11/2020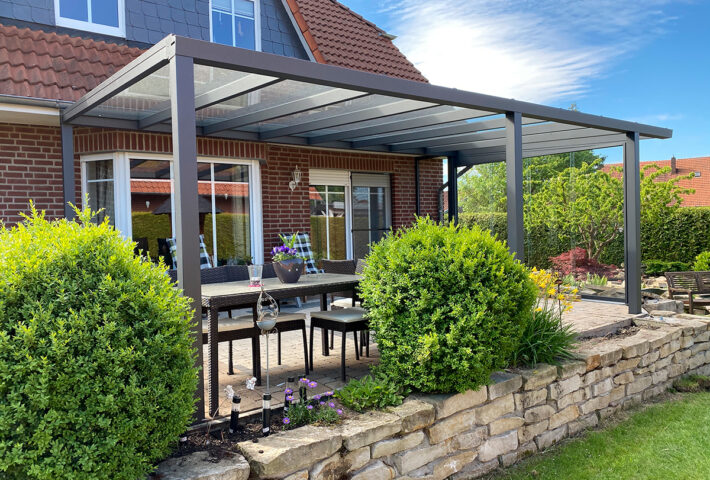 Terrassenwandel GmbH's production facilities are located in Vechta, Germany, but a large proportion of the company's aluminium profiles are stored about 2,000 kilometres away in Alajärvi, Finland.
Seems complicated, right? However, it's actually pretty simple.
Terrassenwandel GmbH uses Mäkelä Alu's powder-coated profiles in their products and stores them using Mäkelä Alu's AluStorage® service. This means that Mäkelä Alu's stock always has an agreed amount of aluminium profiles ready, which are powder-coated and delivered to the customer exactly when they need them.
AluStorage® is a practical solution regardless of whether the customer is located in a neighbouring city or on the other side of Europe.
The profiles travel from Alajärvi to Vechta in approximately four days.
Makelä Alu offers high-quality aluminium solutions for terrace and carport roofing
Terrassenwandel GmbH manufactures high-quality terrace roofs and carports in Vechta, Lower Saxony, on a modern and fully automated production line. The company's products are only delivered to specialist retailers. Terrassenwandel GmbH currently operates exclusively in Germany, but is looking for partners in neighbouring countries.
The market has developed favourably, so the demand for aluminium profiles is likely to increase in the future.
– Flexible purchase volumes, fast communication in German, short delivery times and quick response to problem situations have reinforced our confidence in Mäkelä Alu, says Sales Manager Hotan Haghiran.
The automated monitoring system of Mäkelä Alu's AluStorage® service helps maintain the agreed stock levels
Terrassenwandel GmbH's aluminium profiles are stored in Mäkelä Alu's warehouse with Mäkelä Alu's AluStorage® service. Profile storage and replenishment is carried out automatically. The quantities of stored profiles are agreed together with the customer.
Mäkelä Alu ensures that customers always have the right number of profiles in stock. Mäkelä Alu uses an automated monitoring system, which ensures that stock levels are always up-to-date. The customer's only task is to place the order, and the profiles will be delivered within the agreed time.
Terrassenwandel GmbH's delivery times are shortened by the fact that the profiles are ready and already in stock. The profiles are powder-coated on a relatively fast schedule as the customer places the order. In this way, purchase volumes can be adjusted to market demand at short notice.
Thanks to the AluStorage® service, the customer does not need to invest in a large warehouse
– The advantage of the AluStorage® service is that the customer does not have to invest money in a large warehouse, says Mäkelä Alu's Export Sales Specialist Leena Kalliokoski.
Leena is keen to remind customers how important it is that the agreed stock levels meet the market demand. Stock levels are easy to change, but the delivery of additional profiles may not be possible on a fast schedule. Of course, depending on capacity, this is sometimes possible.
Mäkelä Alu's communication and attitude receive praise
– We have been very pleased with Mäkelä Alu's clear communication and approach from the beginning. We already know each other so well that the cooperation is now even better and runs smoothly without additional checks, says Hotan Haghiran.
– No manufacturer can guarantee 100% quality. But whenever a problem has come up, we have received help quickly and flexibly.
There is always room for improvement.
– We believe that Mäkelä Alu will continue to develop, deliveries and products will improve, and possible complaints will be handled fairly, so we can recommend Mäkelä Alu with a clear conscience, he says.
Please note that our service is also available in English.
Watch the video to see how the AluStorage® service works