A long-term partner appreciates good quality and logistics
21/02/2020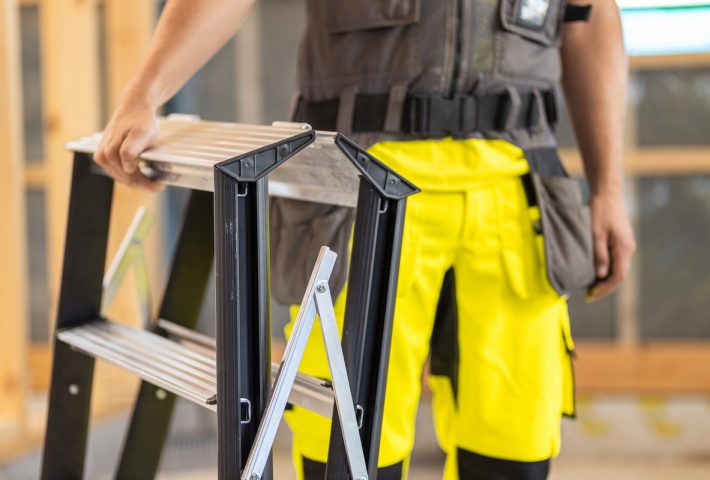 In addition to aluminium ladders, Tikli Group's product portfolio also includes aluminium doors, windows, and construction levels. Tikli Group is the second largest private sector employer in Vimpeli after Ruukki. The company employs nearly fifty people.
The Vimpeli-based company Tikli Group Oy is the only manufacturer of mass-produced aluminium ladders in Finland. The reason for this dominant market position can be found approximately five kilometres away, in Alajärvi. At Mäkelä Alu.
The production of aluminium ladders was made possible by Mäkelä Alu's aluminium production, which began in the early 1990s.
"Previously, we would have had to import aluminium profiles from abroad and the production of ladders would not have been profitable," says Tikli Group's Sales Manager Timo Mastokangas.
Tikli's extension ladders, A-ladders and step stools are now classic products that are highly rated by both corporate and private customers.
Full marks for surface treatment
Tikli Group is one of Mäkelä Alu's longest-standing customers. The companies have collaborated closely right from the start.
"It has been a long-term and solid relationship," says Timo Mastokangas.
In addition to untreated profiles, Tikli Group also buys surface-treated profiles from Mäkelä Alu through the AluCoating® surface treatment service. The service also enables the application of special coatings required on certain ladders.
According to Mastokangas, Mäkelä Alu is a partner that guarantees high-quality raw materials and a smooth process.
"It's a great advantage that we can get high-quality profiles delivered quickly from nearby. The strength of profiles is very important in our products," says Mastokangas.
"Special arrangements can also be made."
Less packaging waste, less hassle
The delivery of raw materials is smooth and efficient. Tikli Group orders a certain tonnage per week from Mäkelä Alu. Cut-to-size profiles are delivered to Tikli Group's production line twice a week according to the company's raw material needs.
According to Mastokangas, efficiency is enhanced by the fact that the profiles delivered to the automated lines do not have to be wrapped in plastic. This saves a lot of effort and reduces packaging waste.
The AluBasket® service facilitates temporary storage
In addition to its own products, Tikli Group also processes aluminium. The company specialises in CNC machining. Mäkelä Alu is an important subcontracting partner. Tikli Group is also part of Mäkelä Alu's La Alucenter partner network. The network allows the company to offer a wide range of service packages to its customers.
In the deliveries of raw material for further processing, Tikli Group utilises Mäkelä Alu's environmentally friendly AluBasket® service, where the profiles are delivered in convenient aluminium baskets.
According to Mastokangas, the AluBasket® service facilitates the temporary storage of profiles.
"The profiles can be conveniently stored in the baskets. Also, no extra packaging material is required, since the aluminium basket alone is sufficient."