Partnership with Mäkelä Alu enabled Riikku's rapid growth        
11/03/2022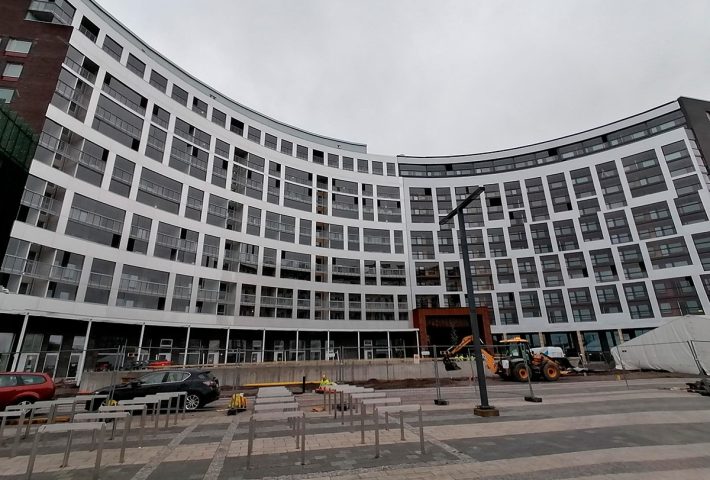 Balcony systems manufactured by Riikku Group Oy are installed all over Finland and Sweden every day. Since its establishment in Alavus in 2005, the company has experienced steady growth and developed into a leading player in its field. Riikku's production facilities were significantly expanded in the autumn, and at the same time, new aluminium machining lines were put into operation. The new facilities and equipment will enable significant growth in the future as well. 
Riikku consists of three subsidiaries: Sakkes in Sweden, Glassy in Norway, and Riikku Koti Oy, which is responsible for consumer sales in Finland. The last two companies joined the group a year ago.
Mäkelä Alu played a key role in Riikku's growth        
Cooperation between Riikku and Mäkelä Alu began six years ago, and Mäkelä Alu soon became the main supplier of Riikku's aluminium profiles. According to Joni Mäkiranta, one of the owners of Riikku, the partnership marked something of a turning point for the company. Since the start of the cooperation, order and material flows have been closely monitored, and common operating methods have been developed in collaboration with Mäkelä Alu. Security of supply and transparency have constantly been improved, and at the same time, Riikku has experienced rapid growth. According to Mäkiranta, Mäkelä Alu's warehousing services and flexible daily product deliveries have played a key role in this.  
"Our production has nearly doubled during our cooperation. Increasing our production to this extent would not have been possible without Mäkelä Alu," says Mäkiranta. 
Outsourced warehousing services reduced the need for storage space
According to Mäkiranta, a steady, predetermined order flow is key when purchasing aluminium profiles. It has allowed the company to reduce its stocks and speed up its processes. 
"If we had to store aluminium profiles for many weeks, we would not be able to keep up with our current production volumes. We would be drowning in unfinished work." 
No more organising orders by urgency   
Every profile order placed by Riikku is unique in terms of dimensions, colour, and type. The right kind of aluminium profiles must be available at the right time in order for the company's production to run as planned.  
Mäkelä Alu delivers raw materials to Riikku on a daily basis. The companies have agreed on a certain framework with regard to delivery quantities, and the details of daily orders can be confirmed at short notice within that framework. 
"As a result, the number of open orders is small and there is no need to constantly rearrange orders according to the degree of urgency. Each order is completed in its turn," says Mäkiranta.
Fast deliveries to end customers     
At the same time, the waiting time for orders has been shortened, which has also enabled faster deliveries.
"This is a huge advantage for the end customer. We are able to serve our customers quickly when we receive the materials we need for their orders within days instead of months," says Mäkiranta.  
"We can count on Mäkelä Alu's delivery reliability"   
Now that Riikku can rely on Mäkelä Alu's quick deliveries, the company only has to hold a few days' stock of aluminium profiles in its own warehouse. The rest of the stock is stored at Mäkelä Alu through the AluStorage® warehousing service. Mäkelä Alu's warehouse houses about a hundred aluminium profiles of different sizes that have been manufactured in accordance with Riikku's specifications.
The profiles are only surface treated at Mäkelä Alu once an order is placed by Riikku. 
"Outsourcing our warehousing activities to Mäkelä Alu means that we have less unfinished work in our production hall and less things lying around in the yard. This arrangement would not work if we could not rely on the quality of the products and security of supply. However, this arrangement works well with Mäkelä Alu. We always get what we order," says Mäkiranta.
This has also allowed Riikku to minimise waste.  
"When we talk about waste, we don't just mean aluminium left over from machining. Waste can also refer to work carried out at the wrong time or products that are just lying around waiting to be delivered."  
Continuous development based on customer needs      
Although the profile orders are handled electronically, Mäkelä Alu and Riikku interact very closely. Both companies are constantly striving to develop their operations and improve their productivity. When bottlenecks are identified, appropriate solutions are immediately sought.  
"Our goal is to further shorten our delivery times," says Mäkiranta.  
Mäkiranta praises Mäkelä Alu's development-oriented attitude.  
"The fact that Mäkelä Alu is easy to work with is also important to us. We feel they are happy to serve us and see us as a valuable partner, despite our occasional rivalry on the baseball field."
A steady order flow benefits both parties     
Sales Specialist Janne Kohonen from Mäkelä Alu is also happy with the cooperation.  
"Riikku has truly grasped the idea of ​​our service and understood the benefits of our strategy for the customer," says Kohonen.  
He emphasises the importance of continuous monitoring and communication in this type of operating model. According to Kohonen, Riikku is easy to work with as a partner, which is important because, in the end, partnership is all about cooperation.  
Customers can outsource their warehousing activities to Mäkelä Alu   
This operating model is also beneficial to Mäkelä Alu as steady daily deliveries spread out the work. When a certain capacity can be reserved in advance for the customer's orders, the customer has the opportunity to change the content of the order right up until the last moment.  
According to Kohonen, the main advantage of Mäkelä Alu's warehousing service is that the customer does not have to tie up any capital in a warehouse.  
"Our customers in the window and terrace industry are already familiar with this concept, but some customers from other industries may still be surprised by the fact that warehousing can be outsourced to us and that they do not have to order the raw materials to their own warehouse," says Kohonen. 
Circulating baskets facilitate transport and storage   
Riikku also uses Mäkelä Alu's AluBasket® service. This means that the customer's aluminium profiles are delivered in protective aluminium baskets that travel back and forth between the customer's facilities and Mäkelä Alu. The baskets can be easily moved and stacked with a forklift.
The baskets protect the aluminium profiles from dents and also serve as convenient, short-term intermediate storage for the profiles.  
Riikku in a nutshell:
Implements projects from planning to installation
Specialises in custom-made balcony glazing and railings
Main customers: construction companies (new buildings and renovation projects)
Head office and factory in Alavus, regional offices in Jyväskylä, Tampere, Oulu, Helsinki, and Raisio
Subsidiaries in Sweden and Norway
Consumer sales under the name Riikku Koti Oy
Turnover of 34 million euros, employs more than 200 balcony industry professionals