Wood or denim pattern for aluminium profiles with Decoral-coating
24/02/2021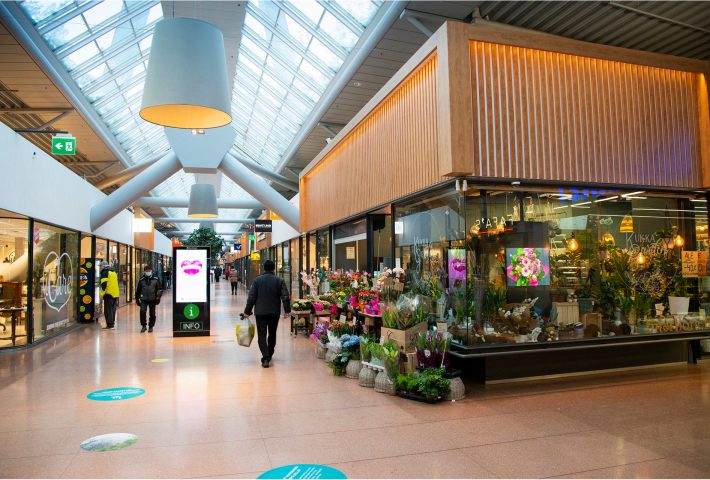 Mäkelä Alu's AluCoating® surface treatment service offers a wide range of finishing options for aluminium profiles. Our company's specialty is a Decoral coating that can create almost any pattern or decorative finish in the desired colour on the aluminium's surface.
Decoral coating is mainly done to the customers' own products. Various wood patterns have been particularly popular.
"The Decoral-coated aluminium is at its best when it's used to bring flamboyance in a structure that needs to be lighter and more fire-safe than wood, for example. Cruise ships have been our key customers," says Sales Specialist Janne Kohonen.
Now Decoral is finding its way into the construction industry.
"I just came across the first hospital where the architect had chosen Decoral coating for the aluminium profiles in their space dividers," Kohonen says.
Warmth and cosyness for a shopping centre's corridors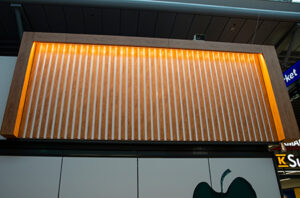 Supplier of corporate visual identities and illuminated signage projects Neontekniikka Oy SNT and its partner JC-Tekniikka Oy were given the challenge of creating a new visual identity for the interior design of the Columbus shopping centre in Vuosaari, Helsinki. The assignment was to create a stylish and eye-catching look for the white fascias of the shop windows to which illuminated signage was attached.
The architect who had designed the refurbishment had originally chosen wooden grates above the shop windows. However, Juha Craelius from JC-Tekniikka Oy recommended the client a cost-effective and more fire-safe option, Decoral-coated aluminium. The client decided to replace the wooden elements with aluminium.
"I had already seen Decoral samples at Mäkelä Alu's partner some years previously," says Mika Vehmas, Product Development Manager at Neontekniikka Oy.
2,500 pieces to coat
In total, Mäkelä Alu was sent 2,500 pieces to be treated. After receiving Decoral coating, the pieces were sent back to Neontekniikka Oy, where the structures were assembled and they were integrated with LED lighting. There is a white base metal sheet that peeks between the grate openings.
Oak-patterned illuminated grates bring atmosphere to the shopping centre's corridors.
"The look is warm and cosy," says Vehmas.
Stone pattern has potential in apartment building renovations
Mika Vehmas thinks that the solution is not only eye-catching but also cost-effective and fire-safe.
"Because of fire load, a similar structure made of real wood could probably not have been made without having a fire-retardant treatment as well."
Vehmas believes that the Decoral coating will become more and more common in construction. The coating's varied possibilities are bound to attract interest.
"Stone patterns have particular potential in apartment buildings' facades, both in new buildings and old ones that are to be renovated," Vehmas says.
The denim pattern also caught Vehmas' eye.
Decoral-coated aluminium grates add liveliness to entrances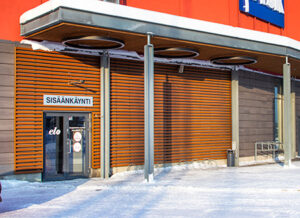 When work began to decorate the facade of the shopping centre Elo in Ylöjärvi, the side entrances were a topic of discussion. They needed to be made more prominent somehow so that customers would use more than just the main entrance. The tasks to design the enhancement and manage the project were assigned to Bolder Development Oy.
"The purpose was to make the walls surrounding the side entrances look like wooden grates that had been used for the suspended ceiling of the canopy. However, the weather conditions and snow have their toll on the materials, so real wood would have required a lot of maintenance," says Project Manager Weera Brown.
According to Brown, Decoral-coated aluminium was the only sensible solution.
Lai-Teräs Mäkinen Ky, a facade construction company, was responsible for the grates with horizontal pieces, and they ordered the surface treatment from Mäkelä Alu.
"The pieces are 50 x 60 millimetres in thickness and six metres long at maximum," says Lai-Teräs Oy's Project Manager Markku Sumuvuori.
A wide range of options to choose from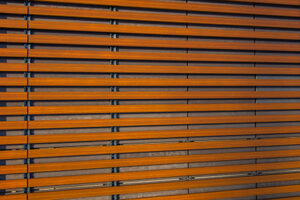 Weera Brown compliments Mäkelä Alu for their pattern range. They chose the Acasia pattern for their project.
The installation itself took only a day. Pieces were sawn to the right length on site and finished off with an aluminium end strip.
"I was on the fence about how Decoral would act when sawn or exposed to the cold, but it withstood it very well and there were no problems at all," says Sumuvuori.
The same ball-shaped decorations used elsewhere in the shopping centre will also decorate the grates as well.
True to life and maintenance-free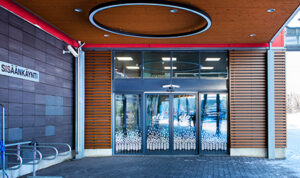 Both Brown and Sumuvuori are very pleased with the eye-catching end-result.
"The grate imitates wood really well. In addition, it is maintenance-free, durable and washable. It was an economical solution as well," Brown says.
"We had a positive experience with Decoral. The price was right for us , too. The coating can imitate various materials, and it is nearly completely maintenance-free. You just have to dust it. We will definitely suggest this option to our clients in the future," says Sumuvuori.
A researched and certified product
Mäkelä Alu is the only manufacturer of Decoral coating in Scandinavia and the Baltic region.
"We offer other surface treatments as well, but Decoral is the most researched as a product. Its application possibilities in outdoor settings have been tested, and it has been certified, so it is durable and safe," says Janne Kohonen.
The true likeness of the pattern and durability come from how the treatment penetrates the powder coating beneath and is not just placed on top of it.
First, the pieces to be treated are primed with a polyurethane powder coating. The desired pattern pigment is made on a special transfer film.
The pieces are wrapped by hand in a vacuum bag made of this transfer film. The product is heated in a furnace to 200 degrees Celsius. It sublimates the product, meaning that the pattern transfers to the coating by penetrating it.
From large pieces to small hinges
The furnace sets the maximum size for pieces to be coated. The maximum length is 6.7 metres, width 1.5 metres and height 24 centimetres.  When the sheets are straight, their maximum size is 2.5 x 1.25 metres. The maximum weight of a single item to be coated is 60 kilograms.
In addition to large surfaces, Decoral has been used for hinges and floor drain covers, among other items.
Because it is lightweight, it offers a good alternative to stone and marble. Aluminium is a safe option for wetrooms as well.
"When planning to use a surface treatment, it is worth remembering that Mäkelä Alu has a wide network of processing partners who could provide good options for implementing various other stages of work while the surfaces are being treated. This way the project can be optimised logistically as well," Janne Kohonen says.
Decoral-coating has the following certificates:
Quality-system approval, according to Marine Equipment Directive, module D
EC Type-examination certificate, according to Marine Equipment Directive, module B