AluCallOff® warehousing service is a great competitive advantage
24/02/2021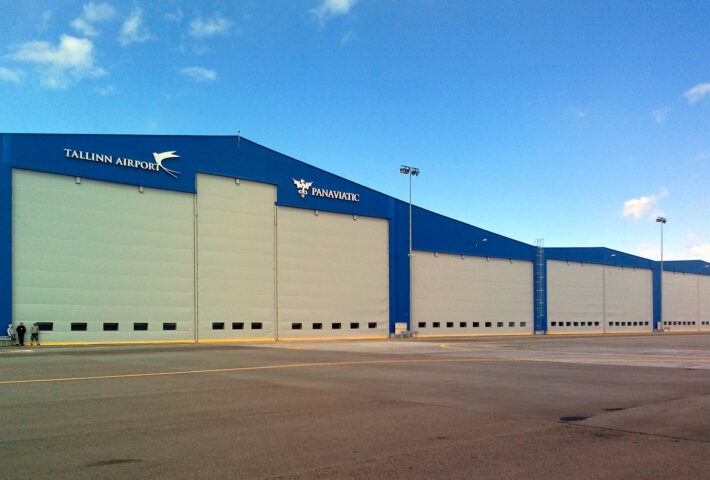 Industrial door manufacturer Champion Door's innovations have made their main item, a large fabric fold-up door, a unique product of the highest quality. The aluminium-supported structure holds up against demanding windy weather conditions in different parts of the world.
The largest customer-projects have taken place in aircraft hangars, shipyards, harbours, and industrial facilities. Every product is made to order for the customer. Most of the products are exported. Their sales took off 15 years ago after a large commission from Airbus.
Competition is fierce in their field. They have competitors on many continents.
AluCallOff® service frees up capital from warehousing
One of Champion Door's most prominent competitive advantages is swift delivery. The secret behind their fast pace is Mäkelä Alu's AluCallOff® service, which ensures that the company always has the required number of aluminium profiles in stock. Because of this, customer orders can be taken into production very quickly. Automation ensures that the stock remains at the agreed level. Stock is refilled whenever needed.
The aluminium profiles are not invoiced until they are taken into use. This way a larger number of items can be kept in stock without tying up capital.
"It's a significant advantage that releases funds for other purposes: labour, investments, and marketing," says Champion Door's Purchasing Manager Anne Tölli.
Shortens delivery times by several weeks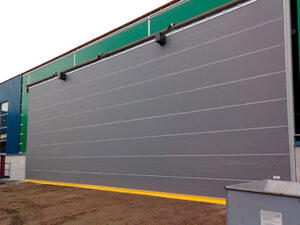 What the service can offer is best demonstrated by imagining how the company would operate without it.
" We would only be able to place an order for aluminium profiles once we had made an agreement with our own client. Then we would have to wait for the aluminium profile supplier to complete their previous orders before getting to work on ours," Tölli says.
Now the aluminium profile order can be sent in immediately. Tölli estimates that it provides a competitive advantage worth at least a month in delivery times.
"We are also making agreements on raw materials to keep the prices stable. That way global market fluctuations don't affect the costs during the contract period. It provides security and makes cost and offer calculations significantly easier," says Tölli.
Well-designed standard profiles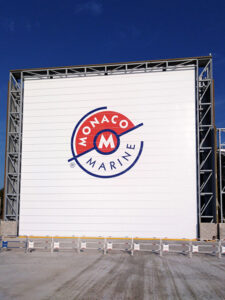 The aluminium profiles delivered to Champion Door's warehouse are manufactured with the customer's own profile drawings. Champion Door also delivers products that are customised specifically for their customer.
"In collaboration with Mäkelä Alu, we have been able to design standard profiles delivered to our warehouse so that they can be used versatilely for different orders, and the amount of waste is minimised. The number of models we keep in stock has grown from a few to six," says Tölli.
They order some of their aluminium profiles from Mäkelä Alu outside the AluCallOff service package. For example, when they receive a commission so large that it would 'eat up' their regular stock, or when using stocked profiles would not be sensible for other reasons.
"AluCallOff allows us to monitor our stock levels easily; the types and number of profiles we have in stock. This makes our life easier when we make plans for an upcoming project, for example," Tölli says.
"Product complaints are also an important aspect of customer service. The number of complaints we receive is minuscule compared to how many kilograms of products we deliver – and when we receive any, processing them is simple and quick," she adds.
Superior service
Tölli compliments Mäkelä Alu on how easily the agreed stock levels can be renegotiated.
"Our collaboration has been pleasant and uncomplicated overall. My experience is that Mäkelä Alu is a professional supplier that provides excellent service. The customer is always right in their books. I am extremely pleased with their work," she says.
According to Tölli, the AluCallOff® service in particular is exemplary.
"If your company needs standard-sized profiles for which there is fairly constant demand, this service is an excellent choice," she says.
AluCallOff® service enables flexible business
The partnership between Mäkelä Alu and Champion Door has lasted nearly 20 years. Now this collaboration is coordinated by Olli Korkia-aho at Mäkelä Alu's sales team. He, too, is pleased with the partnership and sees heaps of potential for future growth.
"When our customer succeeds, we succeed," Korkia-aho says.
Korkia-aho recommends the AluCallOff® service for customers who need profiles ready at their disposal and flexibility in their business operations. The service's advantages become more prominent when the customer wishes to have several aluminium profiles ready in stock for product production without first having to place a separate order for them.
"Although the AluCallOff® service is an additional service with a fee, several of our customers have seen it as a cost-effective way to ensure that the important aluminium profiles are easily managed and that they are available when needed," he says.
And even though the products are always made with the customer's own prints as custom orders, AluCallOff® service allows the customer to pay for the profiles only after they have been taken from the stock for product manufacturing. With the stock capital management system AluVendor®, the customer is able to monitor their stock and delivery situation in real time.
Mäkelä Alu requires the customer to keep aluminium profiles in a protected space.
Watch the video to see how the AluCallOff® service works!