Mäkelä Alu's recycled aluminium meets Solar Finland's values
24/09/2021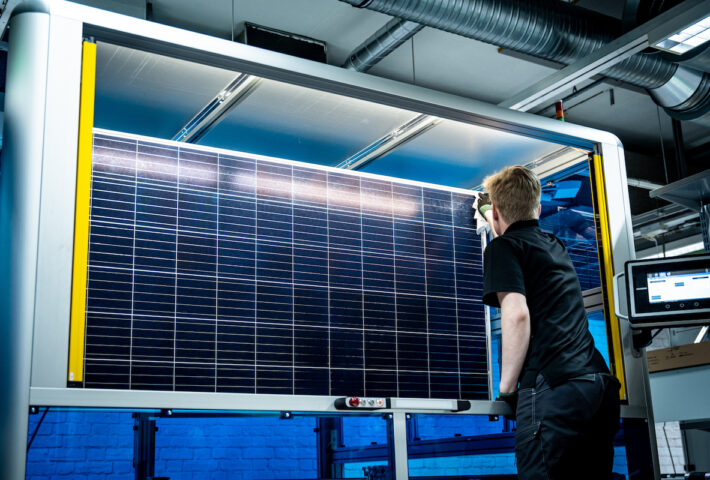 Solar Finland Oy is a pioneering solar energy company from Salo that is driven by its values. Of its subsidiaries, Salo Tech Oy manufactures Finnish-made solar panels. Salo Solar Oy designs and installs photovoltaic systems. Salo Automation Oy delivers automated solar panel production lines across the world.
The company began operations by installing solar panels on the roofs of summer cottages in the 1970s. In the 21st century, the company started importing solar panels to Finland, which was soon followed by their production.
Solar Finland Oy is a family business and a leading company in its field. The company's closest competitor is found in Lithuania.
"Our goal is to be a leading global player in the solar energy sector," says the company's CEO Esa Areva.
"Solar energy is the cheapest form of energy in the world, which is reflected in the high level of interest in it. Various countries also strongly support solar energy investments," says Areva, describing the market.
Solar Finland only accepts environmentally friendly raw material
Solar Finland always wants to ensure that the equipment they use for environmentally friendly energy production is manufactured in an environmentally friendly way.
"This is why we have chosen Mäkelä Alu as our aluminium supplier," says Areva.
Solar Finland uses aluminium in the frames and mounts of its solar panels.
"Mäkelä Alu's fully recycled aluminium allows us to use the Nordic Swan Ecolabel in our products. That is our number one criterion when choosing a supplier, so we don't want to acquire our aluminium from anywhere else. In addition, our aluminium scrap can be recycled back to Mäkelä Alu."
Solar Finland has given a lot of thought to environmental issues in its product development, and the company also collaborates with universities.
The company aims to implement solar panel installations in the most energy-efficient way, and aluminium has proven to be a better solution than iron or plastic.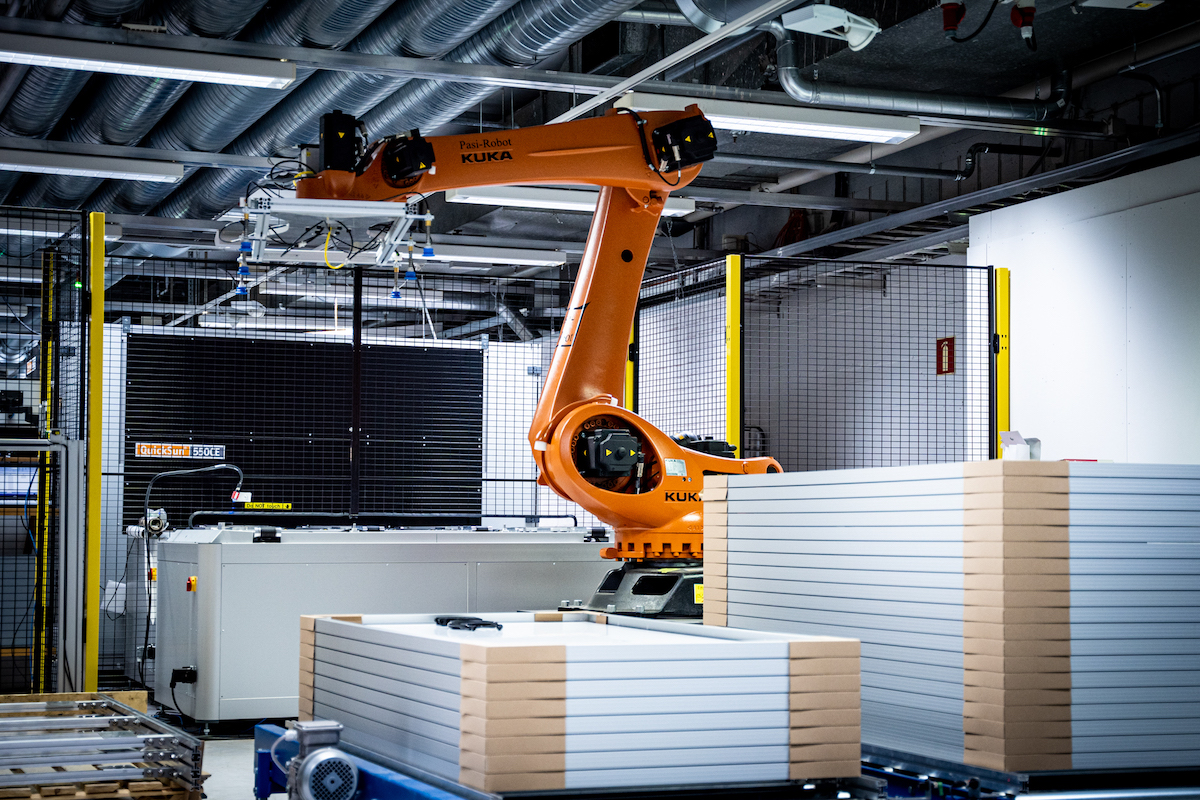 Solar Finland's fully automated solar panel production line consists of approximately 30 different machines.
"We want to know where the aluminium we use comes from and the amount of emissions it generates"
In addition to recycling, Mäkelä Alu also shares Solar Finland's other values, which include the quality, purity and traceability of raw materials, and responsible production.
"We find it important that our raw material supplier actively manages their emissions. We want to know how the aluminium smelting process is carried out, what type of energy is used, and where the raw material comes from. Mäkelä Alu's profiles have all possible certificates, from certificates of origin to emissions certificates. Therefore, we do not need to wonder whether actors throughout the supply chain have acted responsibly in terms of the environment and human rights."
Correspondingly, Solar Finland issues an energy certificate for its customers, which specifies how long it takes for the solar panel to generate the same amount of energy used to manufacture it, and under what conditions.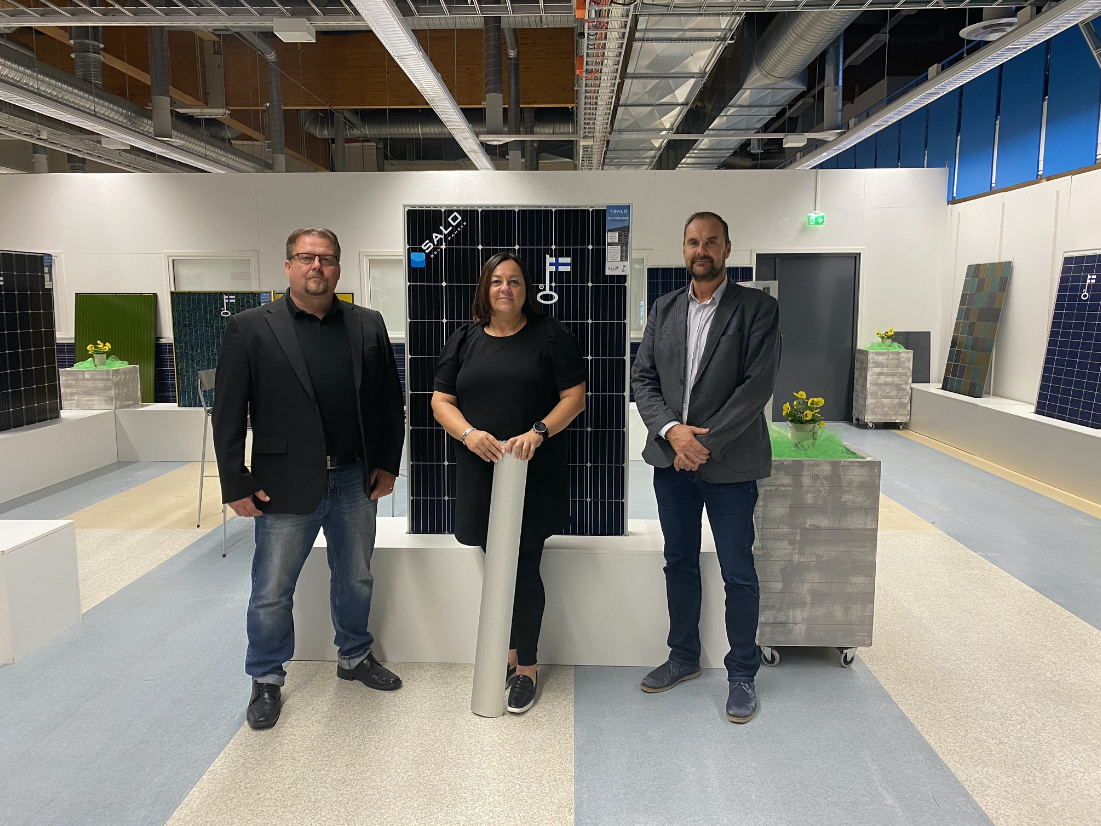 Pekka Hannula from Mäkelä Alu (on the left) and Anu Areva and Pasi Areva from Solar Finland are very pleased with the smooth cooperation.
Customers value environmental friendliness
Areva emphasises that environmental friendliness is not just important to Solar Finland.
"It is also important to our customers, and ultimately to their customers, and people are willing to pay for it. Besides, even if the price were a few per cent higher, it is still a 50-year investment. That is how long we plan for our solar panels to serve our customers, without maintenance. After that, we hope our products are recycled back to us."
Areva says that when investing in solar energy, people rarely think about whether the solar panels were actually manufactured in an energy-friendly and environmentally friendly way. Even consumers don't think to question it when investing in a good form of energy.
"The fact is that during their lifetime, many solar panels do not produce the amount of energy that would compensate for the energy used and emissions generated in their manufacture. There are so many differences between different manufacturing processes and raw material suppliers."
High-quality raw materials help avoid problems in the future
Areva admits that when they started production, using cheap aluminium from Asia seemed like an attractive option. However, the idea was quickly dismissed due to inconsistencies in the quality of the raw material.
"In the global market, it is not at all self-evident that aluminium is pure aluminium and that no cheap metal has been added to the alloy, which could cause the product to start to rust over the years. We don't want these kinds of problems, as we provide a 25-year guarantee for our product. When we work with Mäkelä Alu, we know exactly what we get. Being able to trust our partner is important to us."
"Of course, we also believe that it is important that the aluminium profiles are manufactured nearby, so that their transport does not require much energy. I think it's a similar case to locally sourced food."
Production lines around the world
Solar Finland's latest undertaking is to begin building solar panel production lines all across the world. This also creates a new need for the use of aluminium. The company's goal is to set up two new production lines a year.
"Exporting our know-how and production lines to other parts of the world is more sensible and environmentally friendly than exporting the actual solar panels. The idea is to find a local partner and share our know-how with them. In this way, we will also have the opportunity to employ locals."
Areva also sees new opportunities in using solar energy in Finland, for example with the development of storage solutions.
Solar panels can also be used in façades. Even in Finland, there is great potential in covering south-facing façades with solar panels.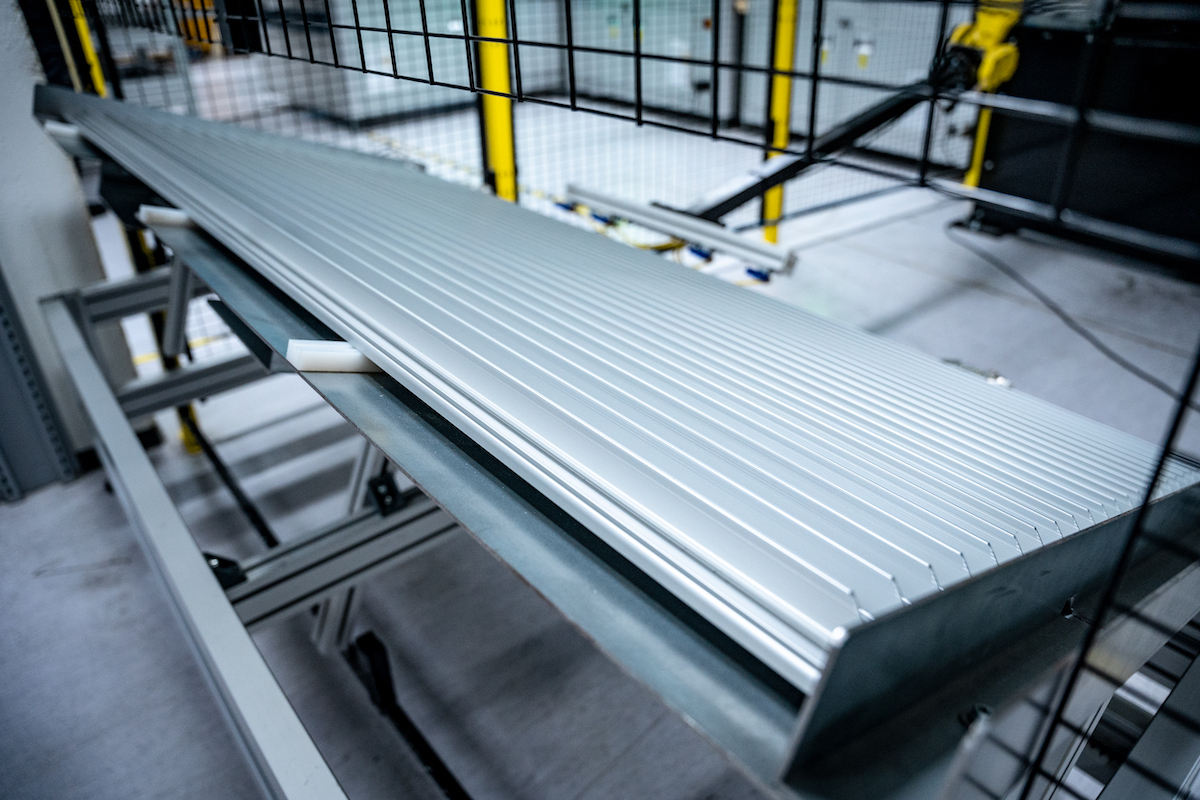 Demand for recycled aluminium is increasing
Pekka Hannula from Mäkelä Alu, who coordinates the partnership with Solar Finland, states that the cooperation between the companies is diverse. Mäkelä Alu manufactures about twenty different aluminium profiles for Solar Finland. Most of the profiles are delivered anodized. Some of the profiles are further processed by Mäkelä Alu's partners, and some are stored using Mäkelä Alu's warehousing service.
The recycled aluminium used by Solar Finland is produced in Mäkelä Alu's own foundry. Any raw material left over from Solar Finland's production is recycled back to the foundry.
"In April 2019, we received a certificate for our recycled aluminium, and demand for this aluminium is increasing," says Hannula.
When ordering aluminium profiles, the customer can choose Mäkelä Alu's recycled aluminium as the raw material.
"What adds to its environmental value is the fact that the production of recycled aluminium reduces the need for cargo transportation," says Hannula.